Most stretch wrap machines built today feature film "pre-stretch" as part of their film carriage design. Every OEM builds their carriage to deliver a specific amount of film pre-stretch. When working properly, pre-stretch will significantly reduce stretch wrap cost, improve load integrity and reduce damage claims.
Few customers realize that their wrappers pre-stretch performance can diminish over time. Many have no idea how to measure the percentage of pre-stretch they're getting or what impact poor pre-stretch has on their packaging costs. The following graphic is provided to highlight this point by comparing different film savings at different levels of pre-stretch.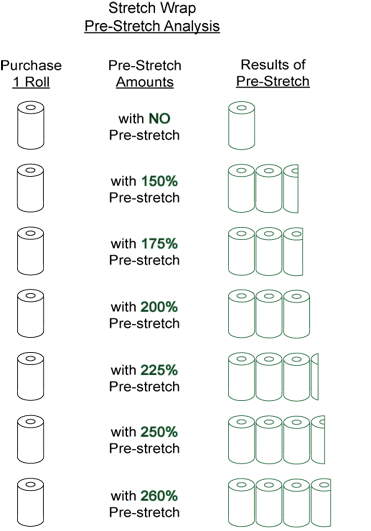 For example, if your wrapper came from the factory with 225% pre-stretch and it's in good working order, then for every roll of stretch wrap purchased you should expect to get an equivalent of 3.25 rolls on your pallets. If your film cost is $45.00 per roll, then 3.25 rolls = $146.25. That's a huge savings of over $100! However, to reap these rewards, your wrapper needs to be working properly and achieving optimal pre-stretch.
Worn rollers, links, bearings etc. can all have a negative effect on the pre-stretch level. We often see machines capable of 225% only delivering 150% pre-stretch. In this case, film yield tumbles from 3.25rolls to 2.5 rolls – that's a significant loss. Using the $45.00 cost per roll mentioned earlier, a 3/4 roll yield loss equates to $33.75 ($45 x 0.75). To put it in perspective, imagine that for every roll of wrap purchased at $45.00 you pay an additional $33.75. On a 40 roll skid that's $1,350 lost! If you use a skid of film each month, in a year that's $16,000! With savings you could afford to buy a new wrapping machine… every year. In an era when purchasers are under pressure to drive down the price on stretch wrap by pennies per roll, there's a hidden treasure to be had by simply managing and maintaining proper film pre-stretch.
Call us for a FREE onsite wrapper pre-stretch performance assessment by our Manager of Technical Services, Mr. Shawn Gale. Shawn will measure your wrappers pre-stretch performance and gather some basic information. PPI will send you a comprehensive report including our observations and recommendations on how to reduce your wrap costs. Call us now – toll free (800) 665-4040 or 905-507-4040.