Fully-Automatic High Speed Strapping Machine
Precision Engineering:
The PPI HS 65A-Series is a fully-automatic, high speed, PLC controlled, arch-type strapping machine. Comes with belt-drive package transfer and optional compression platen. Application examples include: corrugated cases, linens & uniforms, magazines & newsprint, etc. Machines available for 5, 6, 9mm strap.
Benefits:
Can be fully integrated with power conveyors and other equipment to create a truly automated production line.
Durable and reliable, this machine requires very little maintenance.
Uses low-cost polypropylene strap.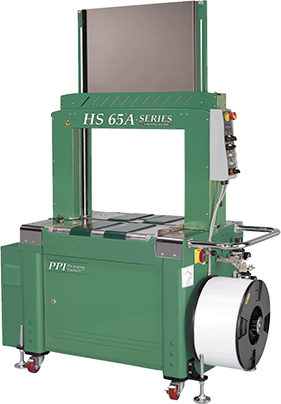 Features:

The compact HS 65A-Series strapping head has no belts, clutches or pulleys. It is designed with up-to-date technology with fewer moving parts. 30% fewer parts requires fewer adjustments and fewer wear components requiring less maintenance.

Hinged top plate makes easy access to the strapping head for quick maintenance. Quick and free access to the strap guides without the use of tools, the most maintenance-friendly design.

The HS 65A-Series is designed with a waist-high auto strap feeding. feed the strap automatically from the upper side of the coil without the need to access the bottom of the machine.
Technical Specs:
Strap Width: 5mm, 6mm and 9mm
Strap Tension: 1kg – 35kg
Table Height: 880mm W – 970mm H
Standard Arch: 500mm W x 650mm H
Available in Other Sizes
Speed 35 Packages per min.
Power Supply: 110V, 220V 50/60Hz 1ph
Options:
Siemans PLC
Light Tree Alarm (Triple Lamp)

HS 65A-Series Brochure