Automatic High Speed Stainless Steel Strapping Machine
Precision Engineering:
The PPI HS 65S-Side Seal wash down machine is ideal for harsh working environments, such as meat, poultry and marine food processing. The machine includes a stainless steel frame and rust resistant/corrosion resistant parts. The waterproof design is suitable for water and wash down spray. Machines available for 5, 6, 9 or 12mm strap.
Benefits:
High speed (up to 60 straps per minute) can be configured for different operating modes to increase productivity.
Stainless steel to protect from water & wash down spray.
Maintenance friendly removable guides.
Downward tension force for most reliable and consistent tension & seal.
Uses low-cost embossed polypropylene strap.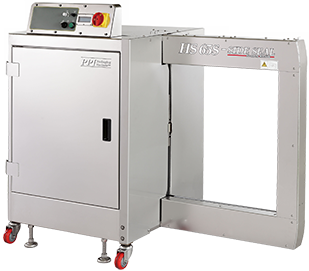 Features:
Water Proof Design:
The PPI HS 65S-Side Seal has an internal heater to minimize the accumulation of humidity inside the machine. Special protection from electric control unit (IP 54) rated to ensure safety and protection from water spray.
Quick Release Strap Guides:
Removable guides allow quick and easy access for cleaning without the need for tools. The HS 65S-Side Seal is the most maintenance friendly design available.
Downward Tension Force:
The HS 65S-Side Seal offers the most consistent and repeatable strap tension and seal. The package is pulled downwards during the strap tension cycle, holding it securely in place, resulting in secure and consistent strap tension.
Compact & Robust Strapping Head:
The HS 65S Side Seal strapping head is designed with rust resistant and corrosion retardant parts. It uses the latest DC brushless motor technology to provide the highest level of accuracy and reliability on the market.
Strap Dispenser with Ergonomic Design:
On the HS 65S-Side Seal the position of the strap dispenser is inside the machine frame. It's convenient and easy to change the coil of strap. This design also protects the strap dispenser from moisture.
Technical Specs:
Strap Width: 5mm, 6mm, 9mm or 12mm
Strap Tension: 32 kg for 5mm, 6mm or 9mm strap
45 kg for 12mm
Speed: Up to 60 straps per minute
Power Supply: 110V, 220V 60Hz 1ph
Options:
Adjustable Roller Table
Low Strap Sensor
End of Cycle and Strapping Error Signals

HS 65S-Side Seal Brochure