Advanced High-Tension Strapping Machine
Precision Engineering:
The PPI HT-Series is an advanced high-tension, arch-type strapping machine suitable for a wide range of applications requiring intermediate speed. Machines available for 3/8″ or 1/2″ strap.
Benefits:
Up to 20 straps per minute – keeps pace with basic production needs.
Electronic tension control for quick, repeatable, strap tension adjustment. Helpful when strapping a variety of different packages.
Easy operation thanks to auto-loop-eject function and simple strap loading.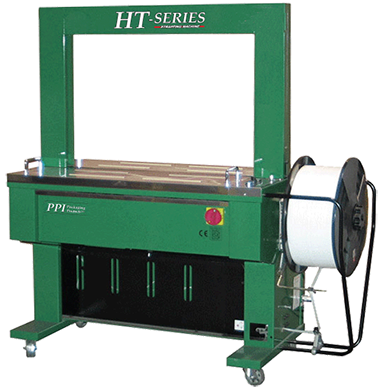 Features:

HT-Series comes standard with a auto strap ejector. The loop-eject clears all unwanted strap automatically if the machine is
accidentally activated without a package reducing any potential downtime.

Reliable and robust strapping head engineered for excellent durability performance. Using two proximity switches to replace
conventional limit switches the HT-Series is a stae of the art high tension strapping machine.

External electronic tension control on the HT-Series allows for accurate and simple strap tension adjustment that can be
performed easily by any operator.
Technical Specs:
Strap Width: 9mm – 12mm
Table Height: 110mm
Strap Tension: 7kg – 70kg
Standard Arch: 600mm H x 850mm W
(23.62″ H x 33.46″ W)
Available in Other Sizes
Speed: 29 Straps per Minute
Power Supply: 110V, 60HZ 1ph
Options:
Photo-Eye Switch
Foot Switch
Palm Pad Switch
Stainless Steel Frame

HT-Series Brochure