Inline High Profile Turntable Wrapper
Precision Engineering:
is ideal for those customers who…
Need a highly automated yet affordable wrapping solution.
Have limited space.
Want to integrate other automated packaging operations like strapping.
Want to wrap loads weighing up to 4,000lbs.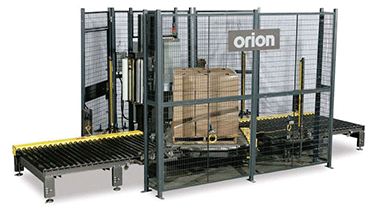 Features:
Allen Bradley Controller:
The FA utilizes the powerful MicroLogix 1400 PLC from Allen Bradley with a 6" color HMI operator control panel. All AC motors with VFD drives insures high reliability and low maintenance. For convenience, there is an external PLC com port on the outside of the controller along with two 115VAC outlets.
Heavy Duty Frame & Conveyors:
Unlike some machines in the marketplace,the FA machines frames are built from 100% structural and plate steel for maximum durability in tough industrial environments. Powder coat paint provides a tough and attractive finish sure to last for decades. The standard conveyors have a maximum weight capacity of 4,000 pounds and feature powered chain driven rollers propelling loads at 30 fpm. The soft-start and soft-stop function prevents load displacement by starting and stopping load movement gently.
Heavy Duty Chain & Turntable:
The FA turntable is driven by a highly reliable chain & sprocket system that provides precise movement of the turntable and making it extremly easy to maintain and service. The base FA system includes one infeed conveyor, conveyorized turntable and one exit conveyor.