Extra Heavy-Duty Rotary Tower Automatic Wrapper
Precision Engineering:
Is ideal for those customers who…
Have extremely high productivity/throughput requirements.
Need exceptional durability or work in a demanding environment.
Have light or unstable loads
Want to wrap loads weighing up to 4,500lbs
Features: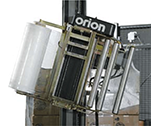 Insta-Thread™ with standard pre-stretch rate of 260% not only helps reduce film costs on every load you wrap, but the film on the load will be stronger, so loads are more secure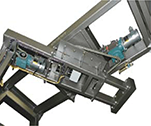 The MA-DX features a durable chain and sprocket tower drive system with a precision ring bearing to provide for durable and reliable operation. The dry-lube chain requires little maintenance as compared to direct drive "tooth to tooth" direct gear drives which require constant greasing.

The new film tail treatment system features an innovative asymmetrical film clamp that grips the film while the impulse hot wire cuts the film. Then, the load-seeking pneumatically actuated brush smooths and secures the film tail to the side of the load.
Technical Specs:
Machine Dimensions: 293"L x 158"W x 140"H
Maximum Load Dimensions: 48" x 48"
Maximum Wrap Height: 80"
Minimum Load Height: 15"
Maximum Load Weight: 4,500 lbs
Film Pre-Stretch: 260%
Power Supply: 480V, 3ph, 60hz
Options:
6,000 lbs Load Capacity
110" Load Height
30" Insta-Thread™ Film Carriage

MA-X Brochure