Rotary Automatic Wrapper
Precision Engineering:
Is ideal for those customers who…
Use a mix of pump trucks, walkies and fork lifts.
Want to wrap very light, heavy or unstable loads.
Want to integrate an existing floor scale with a wrapper.
Need to do frequent cleaning/floor washdown.
Want to reduce/eliminate the need for operators to leave their vehicle.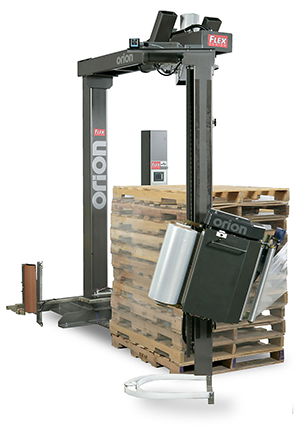 Features:

At the end of the wrapping cycle, an innovative asymmetrical film clamp grips the film while the impulse wire cuts the film. The load seeking brush then presses the film tail to the side of the load.

Tower support and drive is supplied by a precision ring bearing driven by heavy duty chain for maximum reliability in the toughest industrial conditions. RevoLogic™ provides precise wrap counting and home positioning.
A versatile HMI control panel with touch screen display guides users through a range of menu items for easy adjustment of operating parameters. Settings can be password protected for added security.
Technical Specs:
Maximum Load Dimensions: 48"L x 48"W x 80"H
Film Pre-Stretch: 260%
Power Supply: 115V, 1ph, 60hz
Options:
30" InstaThread™ Film Carriage
Tall Load Option
Large Load Options
Second Leg Gantry Style Frame

Flex RTA Brochure