Random Top Belt Semi-Automatic Case Sealer
Rugged Simplicity:
This configuration provides maximum stability since it applies force to the strongest areas of the case which is in the direction of the fluting of the corrugated. Minimized force is applied while the case is processing. This style processes the widest variety of case dimensions but certain narrow width cases may be better suited on side belt drives.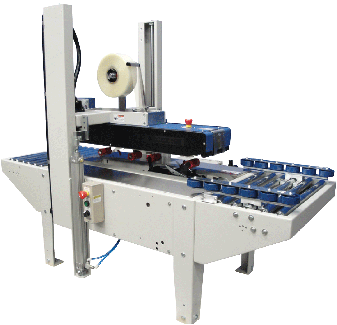 Features:

"Blocked" button on the control panel makes clearing any jammed boxes simple and quick and easy replacement of the bottom tape
roll.
Offsetting taping heads on the RSA 2024-TB allow for processing cases as low a 2" tall.
Standard self-tensioning, self-tracking belt drive simplifies any need to replace a drive belt on the RSA 2024-TB case
sealer.
Technical Specs:
Machine Dimensions: 57"L x 36.75"W x 72"H
Min Case: 6"L x 6"W x 5"H
Max Case: Inf x 20"W x 24"H
Case Weight: 0 – 85 lbs
Belt Speed: 82 ft/min
Conveyor Height: 24" – 30"
Power Supply: 110V, 1ph, 60hz
Options:
Swivel & Locking Casters
Exit Tables
Tape Head Spare Parts Kit
3" Wide Tape Head

RSA 2024-TB Brochure