Random Side Belt Semi-Automatic Case Sealer
Rugged Simplicity:
Specifically designed to process a larger range of cases. This side belt drive random case sealer contains the same package of features and benefits as the standard sized RSA 2024-SB. Construction is reinforced to handle the larger, heavier cases. Standard 4″ tall drive bases provide twice the gripping power.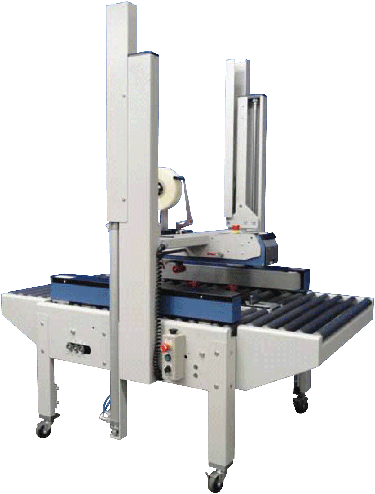 Features:

The RSA 3036-SB comes equipped with standard 4" tall side belts for greater belt drive traction.

Twin 1/3" HP high torgue gear motors enables the RSA 3036-SB case sealer to process larger and heavier cases.
Pneumatic infeed gate assures proper positioning of the case during processing and drastically reduces potential jams.
Technical Specs:
Machine Dimensions: 44.5"L x 47.5"W x 83"H
Min Case: 6"L x 5.75"W x 5"H
Max Case: Inf x 30"W x 36"H
Case Weight: 0 – 85 lbs
Belt Speed: 82 ft/min
Conveyor Height: 24" – 30"
Power Supply: 110V, 1ph, 60hz
Options:
Swivel & Locking Casters
Infeed & Exit Tables
Tape Head Spare Parts Kit
Random Top Squeezers

RSA 3036-SB Brochure