PPI strap choppers can help you turn unwanted waste that ends up costing you to have it removed. With the PPI strap choppers reducing you waste and recycling your strap can help you turn a profit by eliminating high costs of filling up dumpsters.
If you have a question or would like to speak with one of our Technical Service or Engineering Professionals about your application please contact us.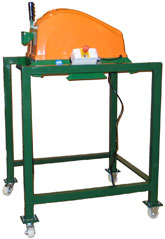 MODEL 300 STRAP CHOPPERS
The PPI Model 300 is a fully engineered scrap chopper whose design introduces new technology and production efficiency in the chopper industry, offering a strong machine at an affordable price. This unit is ideal for plastic banding and steel banding. Keep your warehouse and yard clean and free of scrap; eliminating employee injuries and reducing disposal costs.
Model 300 can Process:
3/4" x .031" steel banding with clip
5/8" x .030" plastic/PET straps
3/4" x .050" plastic/PET straps