PPI has a complete range of machine grade stretch film for all of your wrapping needs. As a machine seller and service provider PPI makes sure you have the right film running through a properly adjusted and maintained stretch wrapper to maximize your productivity and eliminate waste and reduce you film costs.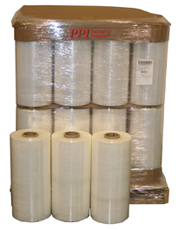 PPI MACHINE PALLET WRAP
PPI machine pallet wrap is available in a wide variety of sizes and widths in both cast and blown film options. Whether you use 20″ or 30″ roll sizes or require light gauge or thicker gauge PPI has the film for you.
Available in gauges ranging from 38ga – 120ga in both blown and cast.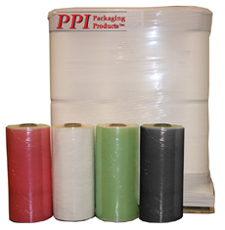 PPI COLOURED MACHINE PALLET WRAP
Need a way to identify your product during shipping or have sensitive shipments that require a way to make sure no tampering has occurred, then try PPI's line of Coloured and printed machine stretch film. Wrap your product in white or black non see through film and make sure the contents of you pallet stay hidden from public view. You can also have your company logo printed on your film to help promote your brand identity.
Colours Available: Black, White, Green, Red or Printed