Advanced Table-Top Strapping Machine
Precision Engineering:
The PPI TT-Series advanced table-top model strapping machine provides better control and smoother operation than a basic table-top.
Benefits:
Electronic tension control for fast, reliable tension adjustment. A benefit whenever precise, repeatable tension is required.
Versatile virtually unlimited package size.
30% fewer parts than conventional machines make it more reliable and easier to repair.
Uses low-cost embossed polypropylene strap in a variety of sizes.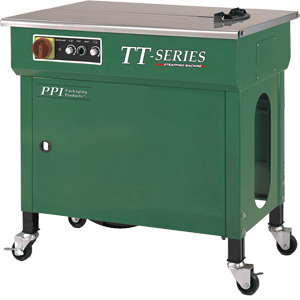 Features:

The electronic tension control on the TT-Series machine allows for adjustment for wider strap tension (8-45kg) that can be easily done on the front on the control panel.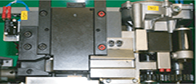 The TT-Series strapping machine comes equipped with a compact mechanical strapping with 30% less moving parts than conventional machines reducing maintenance, and with no belts, chains or pulleys the TT has the quietest sealing heads.
Technical Specs:
Strap Width: 6mm – 13mm
Table Height: 780mm W – 950mm H
Net Weight: 70kg
Strap Tension: 8 – 45kg
Power Supply: 110V, 60HZ 1ph
Options:
Conversion Kit for Small Packages

TT-Series Brochure