PPI's USA-2024 Side Belt Drive tape machines are an ideal solution for a wide range of taping applications. Easily adjustable, operator fed and capable of taping various box sizes, allows you to increase your productivity and reduce your costs.
With it's adjustable belts and tape head the USA-2024 has the capability to seal boxes as small as 4″ wide x 4″ high, and boxes as large as 20″ wide x 24″ high. All USA machines come standard with the rugged and reliable HSD 2000 tape head which is available in 2″, 3″ tape widths to meet your specific taping needs.
USA-2024 SB Benefits:
Side belt drive process allows for a wide range of case sizes
Floating upper assembly to compress overfills
Adjustable height tape head allows taping boxes as small as 4″ and as high as 24″
Powered side belts increases your carton through-put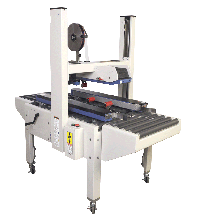 Selecting the right tape machine for your application will increase productivity and safety plus reduce ongoing maintenance costs. Call us at (800) 665-4040 or (905) 507-4040 and let us help you to find the right machine for your application.