Uniform Bottom Belt Semi-Automatic Case Sealer
Precision Engineering:
This common drive style provides the benefit of simplicity of design and is appropriate for many applications. The case is carried past the tape heads on the tops of twin bottom belts. This style requires some downward pressure form the upper head assembly to propel it past the tape heads. This requirement may make it unsuitable for lightweight, unstable, void filled or narrow case sizes.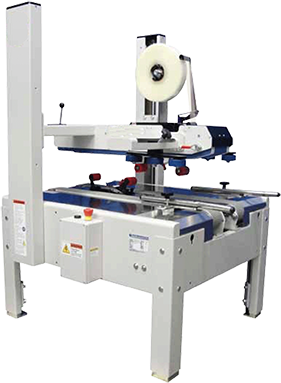 Features:
Horizontal self-centering guides on the USA 2324-BB allow for a fast and simple case size set-up.

The 3-wheel top squeezers on the USC 2020-Tb makes sure your carton is properly closed when the tape application process occurs for more consistent and secure sealing.

The USA 2324-BB has a bottom drive belt process that enables the case sealer to process heavier cartons than other models.
Technical Specs:
Machine Dimensions: 40.5"L x 42"W x 66"H
Min Case: 7"L x 7"W x 2"H
Max Case: Inf. x 23"W x 24"H
Case Weight: 0 – 85 lbs
Belt Speed: 82 ft/min
Conveyor Height: 24" – 30"
Power Supply: 110V, 1ph, 60hz
Options:
Swivel & Locking Casters
Infeed & Exit Tables
Tape Head Spare Parts Kit
3" Wide Tape Head

USA 2324-BB Brochure