Uniform Top Belt Semi-Automatic Case Sealer
Precision Engineering:
The industry standard for high end carton sealing. This machine has features unsurpassed among its competition. With the widest operating range and the most powerful belt drive, this machine is the choice for round the clock applications.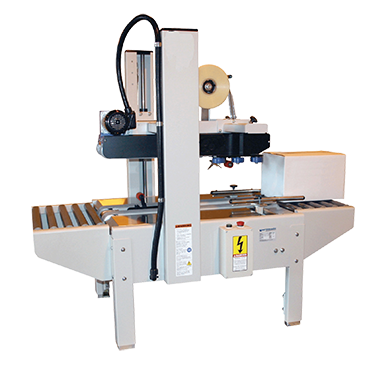 Features:

Single handle locks upper head to both columns for fast and reliable adaptation to changing box sizes.

Equipped with self-tensioning and self-tracking 3" wide drive belts for greater tracking and improved throughput.

Top and bottom drive belt is the best system for case sealing, continually producing the most consistent and reliable carton sealing application.
Technical Specs:
Machine Dimensions: 40"L x 42"W x 73"H
Min Case: 7"L x 7"W x 2"H
Max Case: Inf. x 23"W x 24"H
Case Weight: 0 – 85 lbs
Belt Speed: 82 ft/min
Conveyor Height: 24" – 30"
Power Supply: 110V, 1ph, 60hz
Options:
Swivel & Locking Casters
Infeed & Exit Tables
Tape Head Spare Parts Kit
3" Wide Tape Head

USA 2324-TB Brochure