Uniform Top Belt Semi-Automatic Case Sealer
Rugged Simplicity:
The USC 2020-TB is perfectly suited for low to medium production volumes. Self centering swivel case centering rails, twin 1/5th HP gear motors and a compact footprint make the USC 2020-TB a great addition to any production line.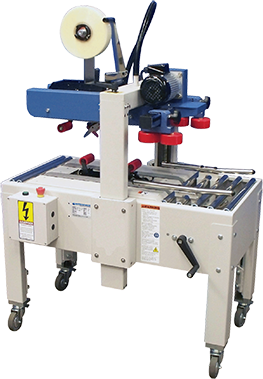 Features:

The USC 2020-TB comes equipped with the HSD 2000-ET tape head and tip up technology for quick and easy roll replacement.

The 2" top and bottom drive belt with belt over technology on the USC 2020-TB offers greater traction on consistent throughput.

The 2" 2-wheel top squeezers on the USC 2020-Tb makes sure your carton is properly closed when the tape application process occurs for more consistent and secure sealing.
Technical Specs:
Machine Dimensions: 43"L x 29.5"W x 67"H
Min Case: 6.5"L x 6.5"W x 5"H
Max Case: Inf. x 20"W x 21.5"H
Case Weight: 0 – 65 lbs
Belt Speed: 75 ft/min
Conveyor Height: 24" – 30"
Power Supply: 110V, 1ph, 60hz
Options:
Swivel & Locking Casters
Infeed Table With "T" Rail Hold Down
Infeed & Exit Tables
Tape Head Spare Parts Kit
3" Wide Tape Head

USC 2020-TB Brochure